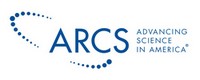 ARCS Foundation, Phoenix Chapter


Graduate College
Site Visit
Achievement Rewards for College Scientists
Fall 2020 Scholar Showcase
Join us at the Fall 2020 Virtual ARCS Scholar Showcase to celebrate this year's ARCS Scholars. All 2020-21 ARCS recipients, faculty mentors and ARCS members are invited to attend.
The program will include Graduate College Vice Provost and Dean, Elizabeth Wentz, ARCS Phoenix Chapter and Scholar introductions. This will be followed by breakout sessions* to learn more about each scholars' research.
October 14, 2020
Wednesday
11:30-1:00 pm
Please register on the ASU website
RSVP HERE
Please RSVP by Friday, October 9, 2020
Via Zoom (link will be provided to registrants)
Questions regarding the ARCS Fall 2020 Scholar Showcase can be directed to gcfellowships@asu.edu.
*Pre-assigned based on registration
October 14th, 2020 11:30 AM through 1:00 PM