Unable to visit the UofA in person because of Covid, Dorian Vorhees, Associate Dean, Graduate College,  put together an informative program with Andrew Carnie, Vice Provost for Graduate Education and Dean of the Graduate College, moderating the meeting.  Dean Carnie thanked ARCS for their long and continued support of UofA scholars. Dorian introduced many of the scholars and UofA faculty who attended the program.
Jill Bray, President, Phoenix Chapter of ARCS, welcomed ARCS members and commented on the excellent quality of scholar applications from the UofA.
We heard two scholars speak.  Alex Kenneth Burton, the Spetzler Scholar, from the Department of Biomedical Engineering, spoke about his recent work in neural recording and stimulation.  Currently these tools use invasive optical fibers or wires.  His research is in wireless battery-free implantable neuromodulation systems—lightweight, miniature, compatible with MRI and CT and capable for large scale manufacturing.  The implants indicate potential for wide adoption in neuroscience research to better understand neurological disorders and injuries.  These systems also serve as a platform towards the development of neural interfaces that can one day interface with humans to improve the quality of life in people with neurological disorders or injuries.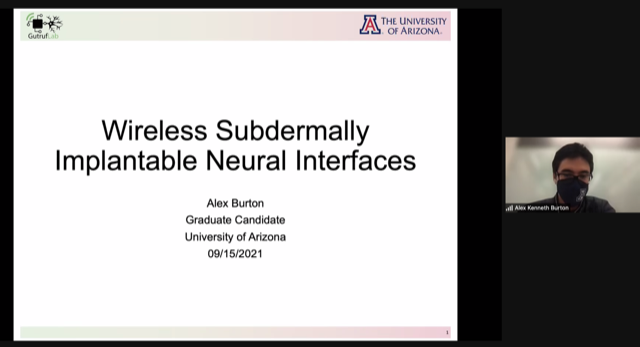 Our second speaker was Samantha Marie Scibelli, the Lawson Scholar, from the Department of Astronomy and Astrophysics.  Much of Samantha's research is on Kitt Peak, 56 miles southwest of Tucson, which is located on the Tohono O'odham Nation.  Kitt Peak National Observatory has three major nighttime telescopes, plus 22 more optical telescopes and two radio telescopes operated by various collaborating institutions.  She currently focuses on constraining the physical, kinematic and chemical structure of low-mass prestellar cores to better understand their evolution.  A starless, or prestellar, core is a dense clump of gas and dust which acts as a primordial birthplace for a low-mass star.  She uses the ARO 12M radio dish on Kitt Peak to search for Complex Organic Molecules in prestellar cores located along the Taurus Molecular Cloud, a filamentary star forming region.  Organics are being formed early and often along the filaments and within starless and prestellar cores in the Taurus Molecular Cloud and that these organics are abundant in the raw material hundreds of thousands of years before protostars and planets form.  By studying the chemistry within these cores we can better understand their physical properties and evolutionary timescales. 
Two outstanding University of Arizona ARCS scholars gave us excellent presentations.